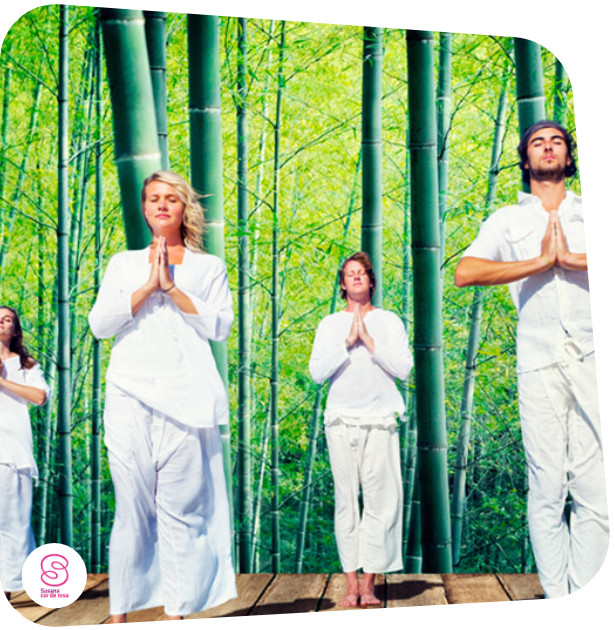 Silence
Raise your awareness and receive the answers that exist within you so you can move forward in your life.
Soon available
Take a break to connect deeply with yourself in communion with nature.
Give yourself this Retreat of Silence. It is a gift of heart and soul and you will feel united to your essence.
What is included on the lodging and food (7 nights and all meals (macrobiotic) during the retreat).
If you have a special diet please let us know in advance in order to find a solution for you.
If you come from abroad and need a ride or transfers please let us know in order to find a solution for you.
Maximum number of participants: 22 people.
WHAT to bring with?
Fresh clothing and warm clothing, hat, sunscreen, writing supplies, pens and coloured pencils. Yoga mat or blanket to put on the floor and cushion. Blindfold for the eyes.
Testimonials
Living testimonials from real people validating Susana's Cor de Rosa work over the years. Caring for others is the main ingredient, and it is extremely valuable for those who receive it.
"I signed up for this retreat on impulse. I did not know Susana, and I saw the disclosure of it on Facebook from "Progredir" Magazine page.
The main purpose was to escape from the environment in which I was, and to travel to a space and a time where I could calm down and get rid of the anxiety I had been feeling.
I did not know anyone, but from the first moment, I felt very welcomed and cherished. The place where the retreat took place was fantastic, and the contact with nature was one of the highlights of this retreat. I will remember forever the walks, the moments of contemplation, alone or in groups.
The meditations were different from the ones I used to, which was good way for learning new perspectives and working on my personal development with more tools at my disposal.
The retreat fulfilled the goal I set out to do, and I am glad the universe has put you on my way at this point!
I thank Susana for the dedication and love she puts into everything she does! That is undoubtedly, what makes all the difference!"